Huddly GO & Google Meet Kit
When connecting a standalone Huddly GO (purchased outside the Google meet kit bundle) to a Google Meet Kit, the Huddly software on the camera will be overwritten and changed to version and Dual Stream mode used by Google Meet kit cameras. Some Huddly features are therefore not available. Connecting the camera back to a Windows or a MAC device would allow you to update the camera back to the latest Huddly software but the camera will stay on Dual Stream mode.
NOTE Dual Stream mode is not reversible!
On Dual Stream mode, there are 2 camera outputs available: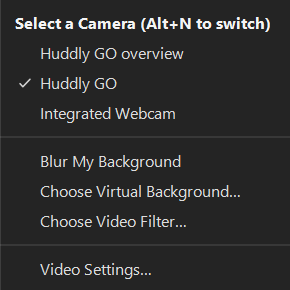 Huddly GO (normal output)
Huddly GO overview (lower frame rate)
This is expected behaviour for Huddly GO and Huddly IQ (without microphone).
For Huddly IQ specific information please see here.
Please note that ChromeOS is not officially supported by Huddly. For supported operating systems and versions please see here.
If the camera is part of a Google Meet Kit, Google is responsible for the release of the software and the support on the camera.