How to connect your Huddly camera to the NEC OPS Slot-in PC
The image below shows the different parts of the NEC OPS Slot-in PC and to which port the Huddly camera should be connected.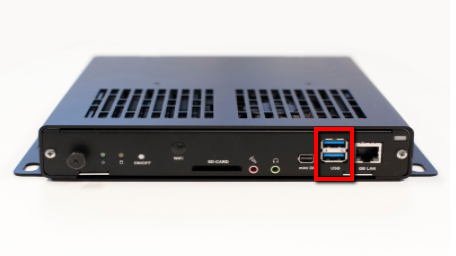 As an integral part of the NEC InfinityBoard, the Huddly camera is connected to any of these USB 3.0 ports using the 1 meter angled cable that is provided in the package. The Huddly cable has been tested to ensure it functions optimally.
We highly recommend that you perform some tests with the Huddly camera before fixing the screws for the NEC OPS Slot-in PC and the black plate, to make sure that it is correctly plugged in.
For more information about NEC InfinityBoard, please click here. If you need further assistance, please contact NEC Display Solutions based on your location.