What is Huddly GO?
Huddly GO is an ultra-wide-angle, software-based video calling camera that improves over time with each upgrade to the Huddly Software©.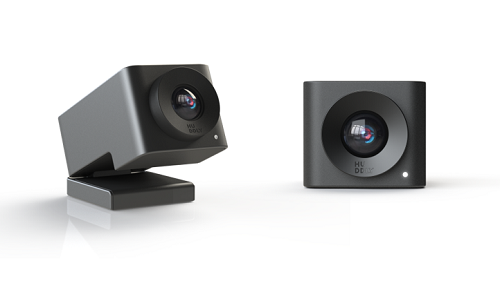 Huddly GO is expertly crafted using high grade materials; has an outstanding, Ultra-wide 150° 6-element lens, and a 16 megapixel CMOS sensor, all in a beautiful, compact package that is small enough to fit in your pocket.
Best of all, regular updates to our Huddly Software© means that Huddly GO will always continue to improve with new, cutting-edge features. 180° Auto-Flip, Dynamic Light Optimization and Color Correction, Digital Zoom and Real-Time Dewarp are just the start.
Huddly GO's compact form and ultra-wide-angle lens can transform even the smallest huddle room into a high-quality conference suite for large groups, giving you and your team the flexibility and freedom to work the way you want. Dynamic Light Optimization means Huddly GO auto-adjusts to your lighting conditions so you will always look your best, no matter where you are.
It is ideal for huddle and meeting rooms of any size, as well as large conference rooms, and its built-in mounting hinge lets Huddly GO easily attach to TV screens, laptops and monitors. The tripod mount and compact size lets you set up video meetings anytime, anywhere, at your own convenience. Huddly GO even supports live-streaming events and lectures, all in crisp, crystal clear HD video.
You can read more about the Huddly GO here, and for more information about how to place and order, click here.